Explore the IVF success rates at Fertility Specialists of Texas
Our physicians combine decades of experience with today's latest scientific advancements to provide patients with the most effective, comprehensive treatment plan . With a reputation for quality and success, we have welcomed more than 2,400 "miracle babies" via IVF protocols since 2005. Our IVF success rates are proof of our effectiveness.
Why are we successful?
Individualized IVF protocols
World-class IVF facility located in Plano / Frisco, Texas
Utilize the latest embryo culture protocols
Developed a one-of-a-kind quality control system to produce healthy embryos
Provide personalized attention for each patient
We encourage you to check out the data directly. We have provided a direct link to the SART website. The most important number to evaluate is the live birth rates when looking at fertility success rates. This number is the "take home baby" rate and the most important measure of success.
Fertility Specialists of Texas has consistently outperformed the national average in the past 10 years. Reapplication and certification is required every three years. Fertility Specialists of Texas has been re-certified successfully in each year of application.
Please see the most recent IVF live birth rates below, as well as direct links to SART, which highlight IVF success rates for all clinics in the US.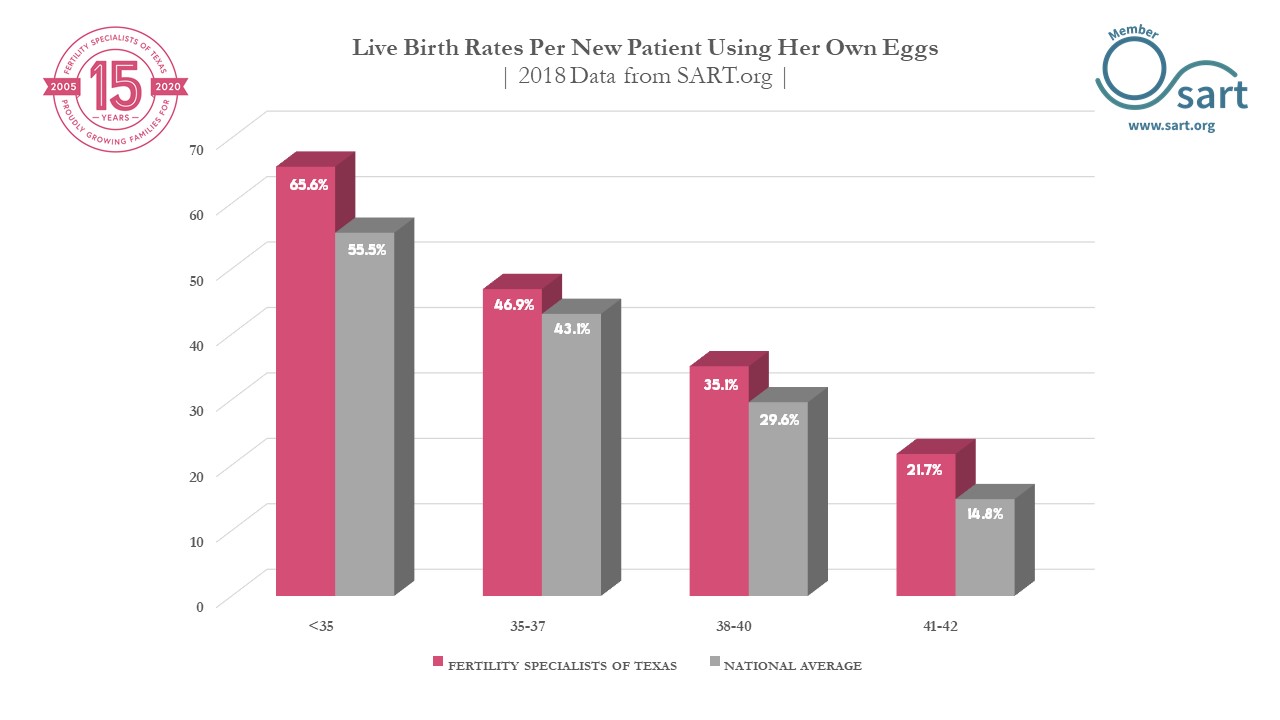 Live Births for patients using her own eggs: 163 IVF cycles in women <35; 64 IVF cycles in women 35-37; 37 IVF cycles in women 38-40; 23 IVF cycles in women 41-42
Who determines IVF success rates?
The Society of Assisted Reproductive Technology (SART) is the primary organization for the practice of assisted reproductive technologies (ART) in the United States. ART includes in vitro fertilization (IVF).
Fertility Specialists of Texas adheres to the guidelines from SART and the American Society for Reproductive Medicine (ASRM). We report our IVF treatment outcomes to SART, which publishes an annual report for all registered IVF Centers in the U.S. This data is also reported to the Centers for Disease Control (CDC).
*Please note that a comparison of clinic success rates may not be meaningful because a patient's medical characteristics, treatment approaches and entrance criteria for ART may vary from clinic to clinic.
The Fertility Specialists of Texas Laboratory has a Clinical Laboratory Improvement Amendments (CLIA) certificate of accreditation, is registered and inspected by the Food and Drug Administration (FDA) and is accredited by the College of American Pathologist (CAP).
Success matters
When it comes to growing or expanding your family with the help of infertility treatment, a clinic's record of success matters. Fertility Specialists of Texas provides high-quality care, which you can see in our success rates. For details, visit SART.org.